Make Sense of Medicare Costs
Medicare helps cover a wide range of medical services. But Medicare does not cover everything.
Generally, anyone with Medicare will pay for a portion of their expenses, but what you pay will depend on the type of coverage that you have – Parts A & B (Medicare), Part C (a private Medicare Advantage plan), a Part D prescription drug plan and/or a Medicare Supplement. What you pay will also depend on where you receive services and if you have other forms of insurance.
The Costs of Medicare Include: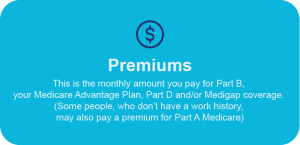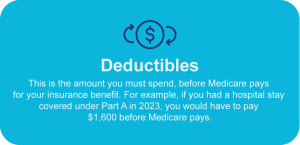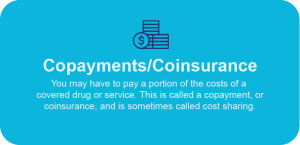 ---
The Costs Include:
Part A – (Part of Medicare)
Typically does not have a premium or deductible.
Part B – (Part of Medicare)
Typically has a premium and a deductible.
Part C – Medicare Advantage Plan
Your out-of-pocket costs in a Medicare Advantage Plan (Part C) depend on:
Whether the plan charges a monthly premium.
Whether the plan pays any of your monthly Medicare Part B (Medical Insurance) premium.
Whether the plan has a yearly deductible or any additional deductibles.
How much you pay for each visit or service (copayment or coinsurance). For example, the plan may charge a copayment, like $10 or $20 every time you see a doctor. These amounts can be different than those under Original Medicare.
The type of health care services you need and how often you get them.
Whether you go to a doctor or supplier who accepts assignment (if you're in a PPO, PFFS, or MSA plan and you go out-of-network).
Whether you follow the plan's rules, like using network providers.
Whether you need extra benefits and if the plan charges for it.
The plan's yearly limit on your out-of-pocket costs for all medical services.
Whether you have Medicaid or get help from your state.
Get more cost details from your plan
If you're in a Medicare plan, review the "Evidence of Coverage" (EOC) and "Annual Notice of Change" (ANOC) your plan sends you each fall. The EOC gives you details about what the plan covers, how much you pay, and more. The ANOC includes any changes in coverage, costs, or service area that will be effective in January.
GET HELP NAVIGATING THESE COSTS
---
Costs for Medicare drug coverage – Part D
You'll make these payments throughout the year in a Medicare drug plan:
Premium
Most Medicare Prescription Drug Plans charge a monthly fee that varies by plan. You pay this in addition to the Medicare Part B premium. If you belong to a Medicare Advantage Plan (Part C) or a Medicare Cost Plan that includes Medicare prescription drug coverage, the monthly premium you pay to your plan may include an amount for drug coverage.
Get your premium automatically deducted
Contact your drug plan (not Social Security) if you want your premium deducted from your monthly Social Security payment. Your first deduction will usually take 3 months to start, and 3 months of premiums will likely be deducted at once.
After that, only one premium will be deducted each month. You may also see a delay in premiums being withheld if you switch plans. If you want to stop premium deductions and get billed directly, contact your drug plan.
How much does Part D cost?
Most people only pay their Part D premium. If you don't sign up for Part D when you're first eligible, you may have to pay a Part D late enrollment penalty.
If your modified adjusted gross income as reported on your IRS tax return from 2 years ago (the most recent tax return information provided to Social Security by the IRS) is above a certain limit, you may pay a Part D income-related monthly adjustment amount (Part D-IRMAA) in addition to your monthly plan premium. This extra amount is paid directly to Medicare, not to your plan.
Yearly deductible
This is the amount you must pay each year for your prescriptions before your Medicare Prescription Drug Plan begins to pay its share of your covered drugs.

Deductibles vary between Medicare drug plans. No Medicare drug plan may have a deductible more than $505 in 2023. Some Medicare drug plans don't have a deductible.
Copayments or coinsurance
The amount you pay for each of your prescriptions after you have paid the deductible (if your plan has one) is either a copayment or coinsurance. Some Medicare Prescription Drug Plans have different levels or " tiers " of copayments or coinsurance, with different costs for different types of drugs.
With a copayment, you pay a set amount (like, $10) for all drugs on a tier. For example, you may pay a lower copayment for generic drugs than brand-name drugs.
Coinsurance means you pay a percentage of the cost (like, 25%) of the drug.
Usually, the amount you pay for a covered prescription is for a one-month supply of a drug. However, you can request less than a one-month supply for most types of drugs. You might do this if you're trying a new medication that's known to have significant side effects or you want to synchronize the refills for all your medications. If you do this, the amount you pay is reduced based on the quantity you actually get. Talk with your prescriber to get a prescription for less than a one-month supply. Other supply options may apply. See the Part D Prescription Drug section on Medicare.gov (https://www.medicare.gov/part-d/index.html) for more details.
GET HELP NAVIGATING THESE COSTS
Ask us about:
•    Prescription Drug coverage gap
•    Getting Extra Help on Costs
•    Late Enrollment Penalty
•    Helping you Calculate Your Costs and Benefits
CALL US FOR HELP  1 (888) 446-9157 (8am – 8pm Monday – Saturday)
TTY Users: 711